The Midlands Roots Explosion Vol Two - 5/5
Reggae Archive Records, sister label of Bristol Archive Records, never ceases to amaze us. Their 2015 released compilation "The Midlands Roots Explosion Volume One" was one of the jewels on the record label's crown, and now there's its excellent follow up, the eagerly awaited "Volume Two", which is another bright glittering jewel on that crown.
This next "Midlands Roots Explosion" compilation starts off in exactly the same way as its predecessor, namely with a tune by Steel Pulse. This musical outfit from the Handsworth area of Birmingham, England, released their debut album "Handsworth Revolution" – one of the major landmarks in the evolution of British reggae – in 1978 and then became one of the most successful roots reggae bands. While their debut single from 1976, "Kibudu-Mansetta-Abuku", was featured on "The Midlands Roots Explosion Volume One", "Bun Dem", originally released in 1977 on the Tempus label and in 1978 re-appearing on the flipside of Island Records' "Ku Klux Klan" 7″ single, is included here. This roots killer, written by Basil Gabbidon and produced by the legendary Dennis Bovell, can be enjoyed to the fullest as this compilation features the 12″ version which incorporates the dub version. A great opener!!!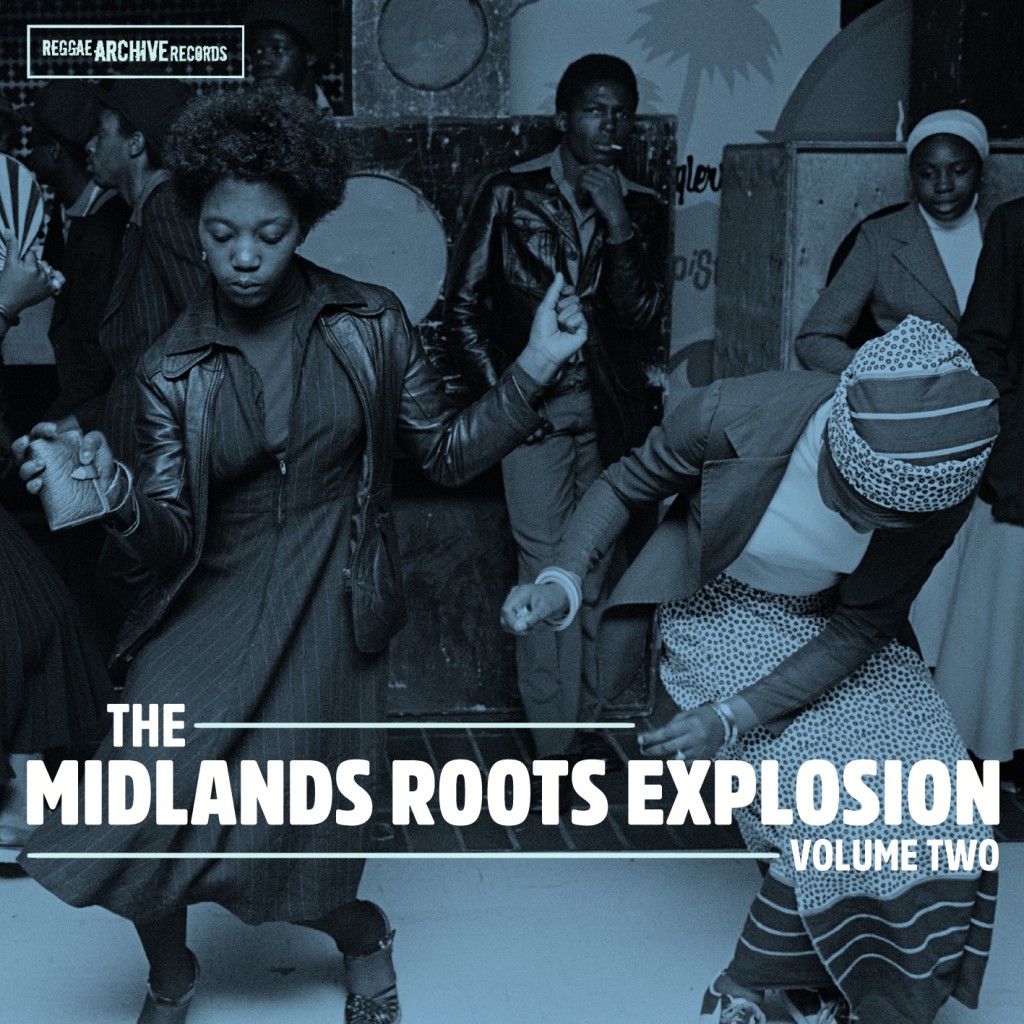 "Volume One" contained some notable singles from artists such as Iganda, Musical Youth and Carnastoan. It's a good thing and a real treat that the missing A and B sides from these singles are gathered on this compilation. First there's Iganda's excellent "Mark Of Slavery", which was the A side of a 1979 single that featured "Slow Down" on its flipside. A real joy to listen to that big tune over and over again!! Also "Generals" from Musical Youth, which features the same line up as "Political" from "Volume One", is a song that leaves a good impression. And then there's also Carnastoan's "Sweet Melody", the A side of the band's classic 12″ single from the early '80s, an awesome effort with an insane dub part at the end.
Appearing again on a compilation set from Reggae Archive Records are artists like Leicester's Groundation, Handsworth's Mystic Foundation, Sceptre, Wolverhampton's Capital Letters, Eclipse and Black Symbol. Groundation's previously unreleased "Rebel" was recorded a few years before their tune "Fa-Ward", which can be found on "Volume One". Mystic Foundation's long lost "Cannot Take It Away" is a roots gem with great horns, while Capital Letters' social commentary "Equalisation" is another lost slice of early '80s roots. Key players in the Birmingham scene, Black Symbol, Sceptre and Eclipse, are present with songs taken from their previously released individual albums.
A few acts are new to the series. These include Natural Mystique, a roots reggae band that was based in south Birmingham in the '80s, Bass Dance, the late Linton Haughton, Sledge Hammer and Afrikan Star. "Generals" is taken from Natural Mystique's great 1982 roots 7″ single issued by Dune Records, which also had the killer "In This Time" on the B side. Former Steel Pulse guitarist/vocalist Basil Gabbidon formed a new group called Bass Dance, here present with the solid "Africans". And then there's Linton Haughton with a big song entitled "Hustling Man". This scarce 12″ cut was released by Shield Records, with the tune credited to Linton & Haughton on the vinyl label. Our personal favourite track is Sledge Hammer's "Ruled By The Stone", a huge tune with top class vocals that instantly grabs your attention and causes real excitement. Originally released as 7″ single on the Crucial Music Inc. label, this tune still sounds fresh after all those years. A timeless effort!!! Also appearing for the first time is Afrikan Star, whose "Run And Hide", originally issued in 1980 on Black Vinyl Records, rounds off this thoroughly entertaining album.
Just like "Volume One", this is an absolute must have album!!!
http://www.reggae-vibes.com/rev_var/midroot2.htm